Joined

Jan 17, 2008
Messages

390
Helped

11
Reputation
Reaction score

9
Trophy points

1,298
Location
Activity points
I discovered that my voltage regulator (300mA rated) driving the power to my FPGA is not providing any output voltage. While I wait for my part to arrive I decided to drive the power to my FPGA with a current limiting power supply (200mA) and 3.3V.
Not sure what caused the regulator to go bad but it may have something to do with current draw when the FPGA programming occurs?

So the positive lead of the power supply goes to pin 5 (Vout) pad and the negative lead goes to pin 2 (ground) pad.
While trying to evaluate the health of my FPGA I took a screen shot of the voltage and current tied to the FPGA.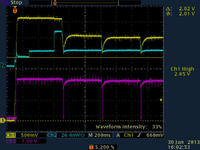 Channel 1 is voltage
Channel 2 is current
Channel 3 is FPGA pin (dont recall which one at the moment)
My concern is how the voltage starts at 2.65V and is then pulled low and never reaches it peak of 2.65V again.
My other concern is the current draw spike right before the voltage is pulled low.
The FPGA channel looks like the FPGA is trying to configure itself but gets caught in some loop because the voltage is too low. So it keeps on trying and trying.
Can anyone offer ideas on:
1) Cause of Voltage drop and the lack of recovery?
2) Cause of Current spike?
3) Is the screenshot suggesting the FPGA is smoked?
4) Is it likely that not only has the regulator crapped out but maybe some capacitors in the attached schematic have blown? Is continuity test enough to verify or do I need to take the caps of the board and measure capacitance?