Hi,
I`m facing some problems with controlling the two stage mosfet electronic key., as it should be.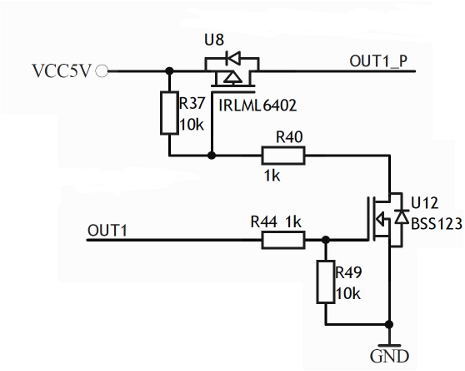 The Out1 input is swinging from 0 to 3,3 V (its uC pushpull output stage). The outp1_p is always between circa 3,3 V to 4,9 V (when loaded with two leds for testing witout resistor). At 3,3 V (near the close stage probably) there is a very little Id current here (about 0,3 mA). How can I fully close that transistor? For testing the R40 is removed and the place is soldered with tin.
Should I use another main P-Mosfet? I cannot rise the +5V. The voltages on the U8 gate is chainging from 0 to 4,4 V as the out1 input is pwm signal (about 50 kHz) so I think that there is no problem.
The main purpose of this thing is to control the led which is max 100-200 mA current with PWM signal 30-100 kHz would be nice. What will be the best resolution?
Best regards.