hi all,
I am designing a bandgap with Cabrini, 2005 paper as a reference . i have attached the schematic from the paper. due to my process constraints , i am using pmos input folded cascode , and i find that i dont get classic curve. i get a linearly varing output.
i have a feeling that the way i generate the bias voltage for pmos current sources are the problem ?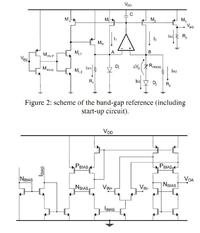 Has anyone come across this type of problem... also from the paper it is unclear how they generate the bias voltage for the current mirrors.
ADDED : dc bias condition of schematic
Last edited: