Hi,
I need to help modify this circuit for battery box 3x 18650 (total is 11.1V)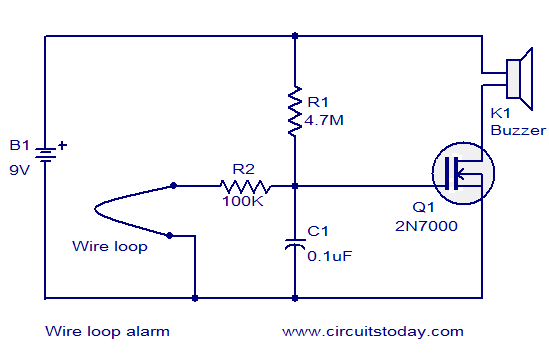 Description. Here is the circuit diagram of a very simple wire loop alarm based on a N-channel enhancement FET 2N700, a buzzer and few passive components.In normal condition the gate of 2N700 (Q1) is connected to the ground through a 100K resistor (R2) and the wire loop. When the wire loop is...

www.circuitstoday.com
[Original components for 9V]
1x condenser: 0.1 uF
1x resistor: 100K
1x resistor: 4.7M
1x MOSFET: 2N700
my buzzer is at 5-12V I would like to power it 11.1V (box 3x 18650)
can you please advise me which electronic components should i use? (I'm not sure how to calculate it) what components do i need for 11.1V?
I want the batteries to last as long as possible in idle mode.
Thanks.