ad603
Hi, everyone!
The circuit below is clipped from the datasheet of AD603.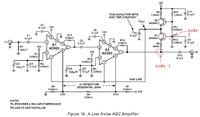 Assume the output of A2 is a dc signal. When the voltage of node 1(see the picture) is changed, say, to 3V, the voltage of node 2 becomes less than 5V, which indicates that voltage cannot stay stable.
I am wondering does it matter? Is it necessary to guarantee a stable voltage at node 2?
Thank you in advance.